RFID Handheld UHF Reader MC3190Z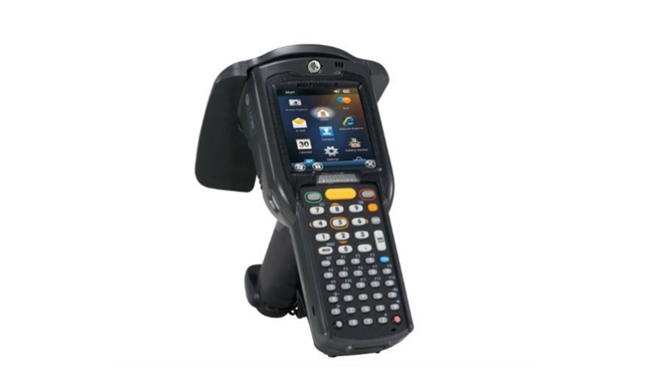 MC3190Z The MC3190-Z is a business-class handheld RFID reader designed specifically to extend the benefits of RFID beyond industrial spaces and into customer-facing and business environments. It starts with the signature rugged design and high performance that Zebra industrial handhelds are known for, and adds an advanced, high efficiency Zebra RFID reader engine for faster read rates and higher throughput. Add a groundbreaking new antenna design that drives RFID performance to new heights and the result is a highly versatile device that is at home in customer-facing environments—from retail stores and healthcare facilities to the business office.
Specifications
Electronic Specifications
Air Interface Protocol
EPC Gen 2 DRM
Max Receive Sensitivity
Not Published
Scanner
2D Imager
Operating System
Microsoft Windows Mobile 6.5
Data Interface
RS 232; USB
Memory/Expansion Memory
256 MB/ user expandable
Power Source
Lithion 4, 400 mAh at 3.7 Vdc
Camera
Not published
Mechanical
Dimension
193 x 119 x 163 mm (7.6 x 4.7 x 6.4 in)
Weight
0.65 kg (1.43 lbs)
Environment
IP Rating
IP 54
Operating Temperature
-10° to +50° C (14° to +122° F)
Looking for RFID solutions?
Featured Applications
Warehouse Inventory Solutions
Retail Store Solutions
Laundry Management Solutions
Tools Tracking Solutions
Personnel Tracking Solutions
Related Products
ITS-AR1010
RFID Active Reader
ITS-DR3888
RFID UHF USB Desktop Reader
ITS-HR8080
RFID UHF Handheld Reader
Product Enquiry
Please contact us for more information regarding this hardware. Our dedicated account manager will get back to you shortly.
Contact Us