IMPINJ SPEEDWAY REVOLUTION R220 UHF RFID READER (2 PORT)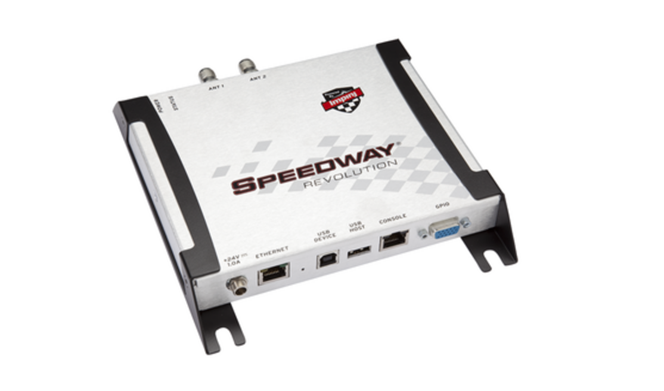 R220 Impinj Speedway Revolution R220 UHF RFID Reader (2 Port) delivers the performance, quality, and reliability necessary for robust RFID-based information you can count on. With the largest installed base of fixed readers across a diverse range of applications, high mean time between failure, and a suite of supporting products and tools, ITS-PR5055 readers are a powerful piece of every item visibility platform solution.
Specifications
Electronic Specifications
Air Interface Protocol
EPCglobal UHF Class 1 Gen 2 / ISO 18000-6C
Max Receive Sensitivity
-82 dBm
Min Return Loss
10 dB
Transmit Power
+10.0 to +30.0 dBm (PoE) / +10.0 to 32.5dBm (external universal power supply)
Physical Characteristics
Dimension
19mm x 175mm x 30mm
Weight
0.68kg
Connector
RP TNC
USB
USB 1.1 Device (Type B) and Host (Type A) ports
GPIO
2 inputs, optically isolated 3-30V; 2 outputs, optically isolated, 0-30V, non-isolated 5V, 100mA supply (DB-15)
Power Source
Power over Ethernet (PoE) IEEE 802.3af / +24 VDC at 800mA via external univseral power supply.
User Environment
Environment Sealing
IEC IP52
Humidity
5% to 95%, non-condensing
Operating Temperature
-20°C to +50°C
Looking for RFID solutions?
Featured Applications
Warehouse Inventory Solutions
Retail Store Solutions
Laundry Management Solutions
Tools Tracking Solutions
Personnel Tracking Solutions
Related Products
ITS-AR1010
RFID Active Reader
ITS-DR3888
RFID UHF USB Desktop Reader
ITS-HR8080
RFID UHF Handheld Reader
Product Enquiry
Please contact us for more information regarding this hardware. Our dedicated account manager will get back to you shortly.
Contact Us