CONFIDEX SILVERLINE SLIM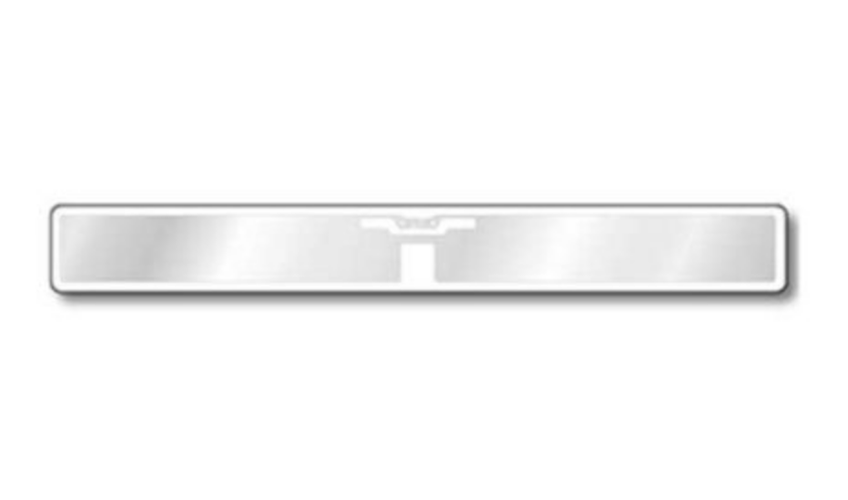 CONFIDEX SILVERLINE SLIM Confidex Silverline Slim™ is a versatile all-surface RFID label for securing electrical devices, tools or industrial assets. By combining the on-metal performance of hard tags and personalization easiness of labels the Confidex Silverline Slim™ makes the usage of RFID easier and more efficient than ever. Confidex Silverline Slim™ is ideal for applications on which the suitable label width is particularly limited, for example applications involving different kinds of industrial assets, pipes, cables or electrical devices. The label can also be attached on curved surfaces like liquid bottles and metallic cylinders without affecting its performance. In actual use, Silverline Slim has already proven itself to provide constant, reliable readings when attached on metal and used in highly demanding conditions.
Specifications
Electrical
Air Interface Protocol
EPCglobal UHF Class 1 Gen 2 (ISO 18000-6C)
Operating Frequency
Global (865-928 MHz)
IC Type
Impinj Monza 4i™
Memory
EPC 256 bits, User 480 bits, TID 96 bits
EPC Memory Content
Not guaranteed unique
Max Read Distance
Up to 4 m (13 ft)
Applicable Surface Materials
Optimized for metal or painted metal
Mechanical
Tag Form Factor
Label tag
Tag Materials
Printable White PET (Thermal Transfer)
Recommended Ribbon
Full resin
Attachment Method
High performance acrylic adhesive optimized for metal and painted metal surfaces
Dimensions
100 x 13 x 1.1 mm (3.94 x 0.51 x 0.04 in)
Weight
0.8 g
Environment
Operating Temperature
-35° to +85°C (-31° to +185°F)
Looking for RFID solutions?
Featured Applications
Asset Tracking Solutions
Tools Tracking Solutions
Personnel Tracking Solutions
Indoor Positioning Solutions
Related Products
ITS-TGA1039
RFID Active Access Card
Product Enquiry
Please contact us for more information regarding this hardware. Our dedicated account manager will get back to you shortly.
Contact Us