CONFIDEX SILVERLINE BLADE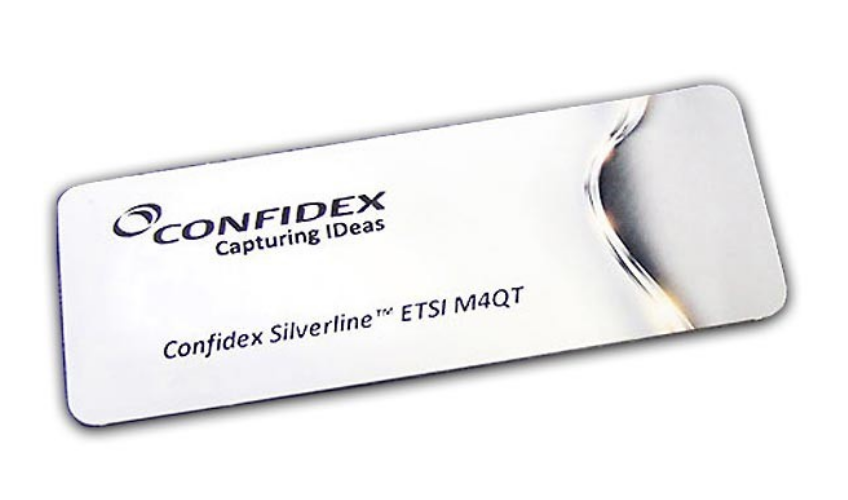 CONFIDEX SILVERLINE BLADE With footprint of only 2.5 x 6 cm and thickness of 1.2 mm, the Confidex Silverline Blade™ is small and unobtrusive passive RFID label. Despite the small size, the Blade boasts a respectable 4.5 meter read range on metal. Equipped with an innovative antenna design, the Silverline Blade™ handles the complete global RFID radio frequency range of 865 to 928 MHz – without harming the performance. The Silverline Blade™ is easy to print and program on-demand making it an ideal solution for tagging your assets from servers to refrigerators.
Specifications
Electrical
Air Interface Protocol
EPCglobal UHF Class 1 Gen 2 (ISO 18000-6C)
Operating Frequency
Global (865-928 MHz)
IC Type
Impinj Monza R6
Memory
EPC 96 bits, TID 48 bits
EPC Memory Content
Unique number encoded as a default
Max Read Distance
On Metal: Up to 4.5 m (15 ft) On Plastic: Up to 1.5 m (5 ft) On Liquid Containers: Up to 3 m (10 ft)
Applicable Surface Materials
All surfaces, optimized for metal
Mechanical
Tag Form Factor
Hard label tag
Tag Materials
White specially coated PP
Recommended Ribbon
Full resin
Attachment Method
High tack adhesive
Dimensions
60 x 25 x 1.2 mm (2.36 x 0.98 x 0.047 in)
Weight
0.6 g
Environment
Operating Temperature
-35° to +85°C (-31° to +185°F)
Looking for RFID solutions?
Featured Applications
Asset Tracking Solutions
Tools Tracking Solutions
Personnel Tracking Solutions
Indoor Positioning Solutions
Related Products
ITS-TGA1039
RFID Active Access Card
Product Enquiry
Please contact us for more information regarding this hardware. Our dedicated account manager will get back to you shortly.
Contact Us